FlashLink® VU In-Transit Logger, Model 20741-20748
The new FlashLink® VU data logger is the ideal device for recording storage and transport conditions of temperature-sensitive products. This in-transit temperature data logger has a large easy to read LCD display that provides immediate temperature status information and trip statistics including upper and lower temperature limits, cumulative duration of any temperature excursions, highest temperature, lowest temperature, and average temperature.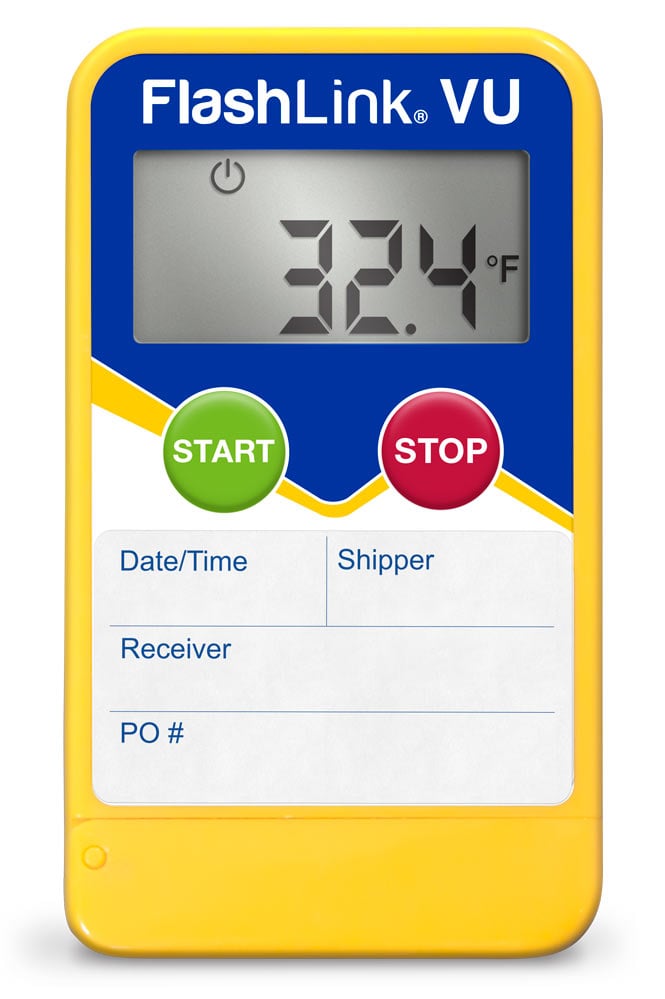 The FlashLink® VU data logger allows for access to temperature history data without having to stop the unit or download the data. DeltaTrak's patented Shadow Log® feature guarantees temperature history data even if the operator fails to start the data logger. The single-use FlashLink® VU temperature data logger is packaged in a highly visible yellow sleeve with easy to follow instructions and helps the receiver locate the data logger very quickly.
Models
5-Day
15-Day
45-Day
75-Day
Logging
Interval
1 min
54 sec
5 min
40 sec
16 min
58 sec
28 min
16 sec
°F Models
20741
20742
20743
20744
°C Models
20745
20746
20747
20748
Applications: Ideal device for documenting storage and transport condition of temperature-sensitive products.
Large, easy to read LCD display
Trip history statistics available on LCD
Patented Shadow Log feature guarantees data even if the operator fails to start the unit, single-use
Print data using Graphics Printer, FlashPDF software or download to PC
NIST traceable and CE Mark
IP56 water-resistant rating
FlashLink® VU In-Transit Data Logger
Feature
Specification
DeltaTrak manufactures products under an ISO 9000 registered quality management system
Measurement Range
-40°F to 150°F (-40°C to 65°C)
Temperature Resolution
0.1°F/°C
Accuracy
±1.0°F from 14°F to 77°F (±.5°C from -10°C to 25°C);
±2.0°F above 77°F (±1.0°C above 25°C)
±2.0°F below 14°F (±1.0°C below -10°C)
Data Capacity
3824 points
Data Download Time
5 seconds typical for 3800 points
Factory Programmable
High & Low levels over entire range, displayed on LCD
Battery
(CR2032) 3V Lithium/18 months
Dimensions
1.962" x 3.423" x .575" (50mm x 87mm x 15mm)
Casing
ABS plastic
Weight
1.6 oz. (45.36 grams)
Shock Resistance
Withstands 3-foot (1 meter) drop to hard surface
Certification
CE Mark, NIST traceable, ROHS Compliant
Display
LCD, Red LED Alarm
Waterproof Rating
IP56
Storage Conditions
-4°F to 122°F (-20°C to 50°C) 0% to 95% RH w/o condensation
System Requirements
Windows PC with current operating system, Adobe Reader, FlashPDF software
Download Requirements
8-Pin to USB adapter
Download FlashLink® VU In-Transit Data Logger Spec Sheet
High visibility shipping sleeve.
FlashPDF
FlashPDF is a simple program used to create a locked PDF file with data downloaded from any FlashLink data logger. Once installed on a Windows PC, the program runs automatically when a logger is connected via the USB adapter. The PDF is then created, saved, and displayed on screen automatically. These PDF files can easily be archived and emailed.
More information on FlashPDF Software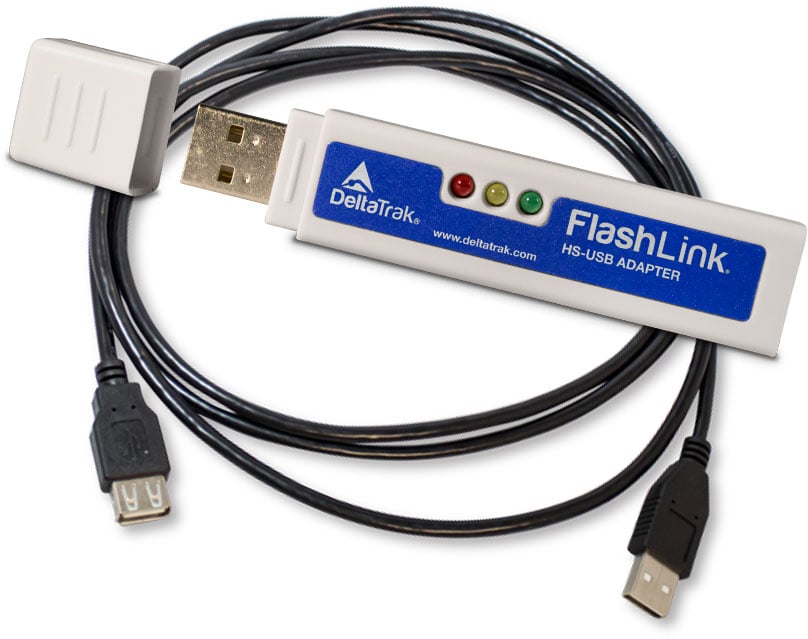 Model 20719: FlashLink 8 Pin to USB High Speed Adapter Kit
Eight pin to USB adapter
USB extension cable included
Download FlashLink 8 Pin to USB High Speed Adapter Kit Spec Sheet